The Market Profile value areas and ShadowTrader Pivots for /ESM22 and /NQM22 Futures are posted free every morning in the ShadowTrader Swing Trader newsletter.
WindoTrader 702-800-4628 Speak with Terry about the ShadowTrader discount or CLICK HERE to learn more.
Click HERE for a market profile key that will help you interpret the chart above.
Pre market indications
| Opening In/Out Balance | in balance |
| --- | --- |
| Overnight Inventory | net long |
| Current Price/Overnight Range | middle third |
| Shock and Awe | no |
| Potential for Early Trade | no |
| Short Term Bias | bearish / market on track to retest Feb lows |
Ongoing Narrative / Commentary
Sellers returned in full force yesterday taking the /ES down to a key trendline which you can see in the graphic below this commentary. Internals were bearish and all context was confirming.
Today could easily be a bit more balanced with two sided activity as yesterday had a good deal of trend to it. The overnight range is large and although overnight inventory is close to 100% net long, we are opening within range which will bring on better opportunities (read: higher odds of success) later rather than earlier in the session.
Yesterday's late session activity ended on a spike which puts spike rules into play. As of now we are trading with one of the more bullish outcomes of the spike which is to open above it. Should there be acceptance within the spike in today's session, that is decidedly less bullish and confirms the lower prices of the spike.
Yesterday's RTH action took the /ES down to a nd through a key trendline on it's daily. I can't stress enough how this is where things get a little tricky when the market is in the "last mile" so to speak. By that I mean the last little piece of distance to the February low which would complete the 100% retracement or "round trip" as I like to call it. These levels are often more difficult than you'd think to resolve and once tested, there is almost always a strong bounce as it's difficult for prices to go 100% of a prior move and then continue through that area immediately. Every market is different but I am simply speaking from experience.
Scenarios
Overnight inventory is close to 100% net long but we are very far off of the ONH and slated to open within value. Overnight activity thus far is balancing off some of yesterday's selling and this dynamic could easily continue into the RTH session as it often does. Let things settle out a bit before getting active in the day timeframe.
Spike rules are in play. Holding above the Top of the Spike is short term bullish and may attract short covering. Be well aware that any such activity is against the backdrop of the value area and also the overnight range, both of which may act as a headwind.
Acceptance within the spike is more bearish and confirms the lower prices of the spike. Watch where value develops during the session in relation to this area.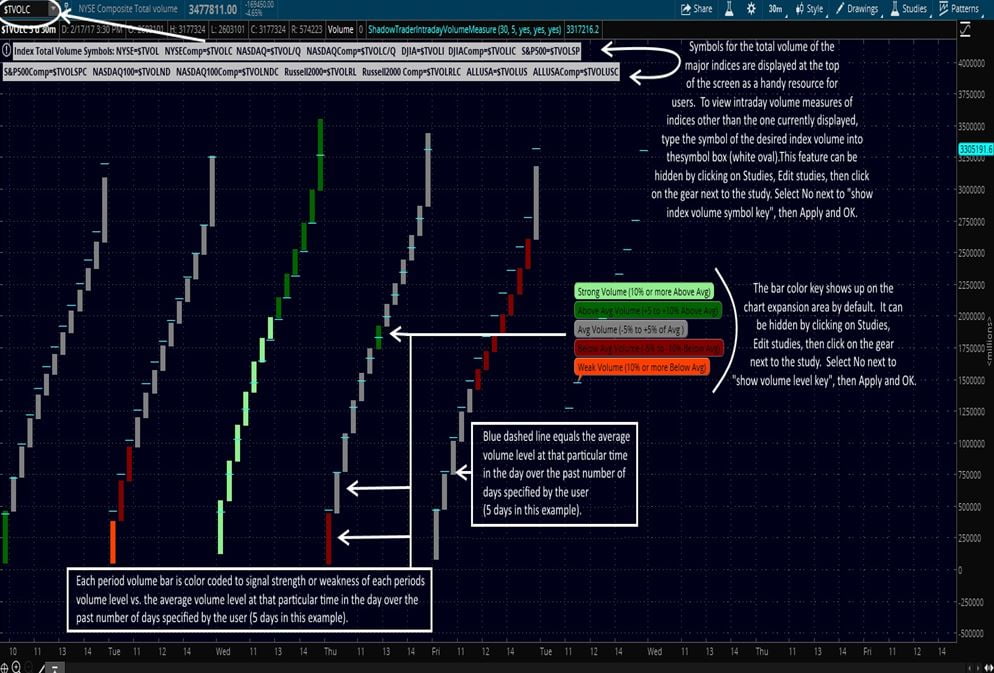 ShadowTrader Intraday Volume Measure
COMPARE INTRADAY VOLUME IN ANY TIMEFRAME
Fully Customizable Settings!
$20 Buy Now