The Market Profile value areas and ShadowTrader Pivots for /ESM21 and /NQM21 Futures are posted free every morning in the ShadowTrader Swing Trader newsletter.
WindoTrader 702-800-4628 Speak with Terry about the ShadowTrader discount or CLICK HERE to learn more.
Pre market indications
| Opening In/Out Balance | out of balance, true gap |
| --- | --- |
| Overnight Inventory | 90% net long |
| Current Price/Overnight Range | in upper third |
| Shock and Awe | yes |
| Potential for Early Trade | yes |
| Short Term Bias | SPY above 20SMA, QQQ below, neutral |
Ongoing Narrative / Commentary
Solid gap higher after a late day spike is putting both spike rules and gap rules into play. Mouse over both terms and get familiar with them as a framework for how early trade may play out.
The ONH is a new all time high (ATH). That is noteworthy in and of itself but also in the context of the /NQ's which are still lagging so far behind. Even with last night's rally, they are still below the 20ma daily. While the broader market can rally without tech participation, it is somewhat unsustainable given that technology makes up almost 30% of the S&P.
Scenarios
As with any true gap, look for the counter trend move first (fade) and note how much of the gap fills if any. Gap rules are in play.
Spike rules will tell us bias in the slightly longer term as they will define whether or not prices from the late day rally yesterday are being accepted or not. Note the outcome after today's session.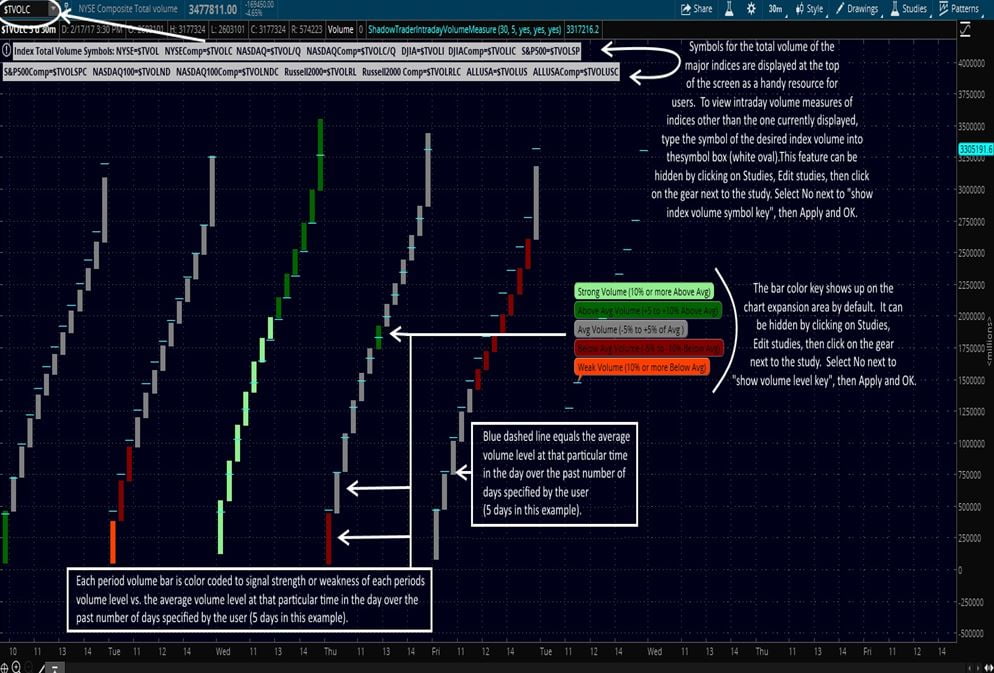 ShadowTrader Intraday Volume Measure
COMPARE INTRADAY VOLUME IN ANY TIMEFRAME
Fully Customizable Settings!
$20 Buy Now