The Market Profile value areas and ShadowTrader Pivots for /ESM21 and /NQM21 Futures are posted free every morning in the ShadowTrader Swing Trader newsletter.
WindoTrader 702-800-4628 Speak with Terry about the ShadowTrader discount or CLICK HERE to learn more.
Pre market indications
| Opening In/Out Balance | in balance |
| --- | --- |
| Overnight Inventory | balanced |
| Current Price/Overnight Range | in lower third |
| Shock and Awe | no |
| Potential for Early Trade | no |
| Short Term Bias | SPY above 20SMA, QQQ below, neutral |
Key Levels for Today
| 4189.50 | VPOC 5.3 |
| --- | --- |
| 4180.00 | RTH High |
| 4160.75 | Settlement |
| 4151.00 | ONL |
| 4140.00 | VPOC 5.4 |
Ongoing Narrative / Commentary
Very flat open and premarket indications above showing little to do early as overnight inventory very balanced and opening within range. The better trades will develop later rather than earlier in today's session.
It relatively rare that we have VPOC's bookending the RTH range on both sides but that's what we have today. I've listed both as key levels which could be targets should the market move definitively out of yesterday's RTH range.
The overall feel here is that the market is suffering from a lack of focus. Divergence abounds with the NDX and RUT threatening to flip their bias into downtrends while the SPX holds it's own in a more sideways trajectory.
Scenarios
Premarket indications offer little clue as to early direction. Current prices are also very close to the settlement as well which indicates no change in the overnight session.
Assume further balance within range with the aforementioned VPOC's as potential targets should prices breakout in either direction.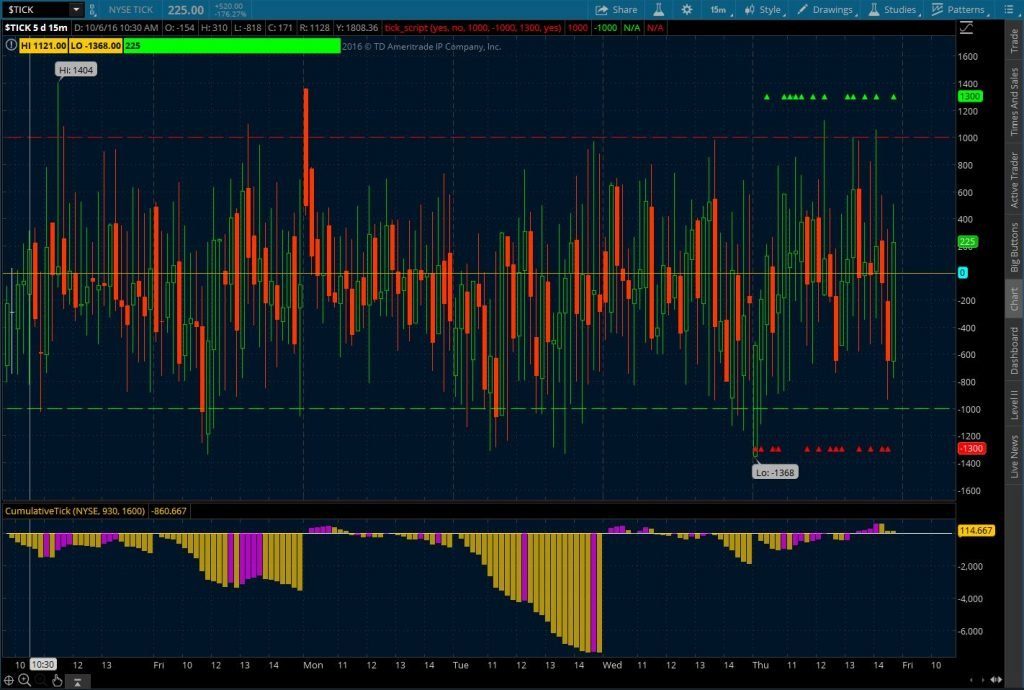 ShadowTrader Cumulative Tick
Beef up your "quad" and by putting your tick indicator on steroids!
Learn More