The Market Profile value areas and ShadowTrader Pivots for /ESU21 and /NQU21 Futures are posted free every morning in the ShadowTrader Swing Trader newsletter.
WindoTrader 702-800-4628 Speak with Terry about the ShadowTrader discount or CLICK HERE to learn more.
Click HERE for a market profile key that will help you interpret the chart above.
Ongoing Narrative / Commentary
Friday represented a breakout from balance, however, as discussed in the weekend video, the structure and underpinnings were not very impressive. Price closed out of range on very middling internals and a lack of range expansion. The value area was very small and the TPO POC prominent. Not what we would like to see on day one of a breakout from 10 day balance.
Overnight prices traded plenty of time below Friday's RTH distribution which is bearish, however prices have since recovered to just inside the range. While we may open within Friday's range, I've listed potential for early trade as a yes should prices move back out of range. When considering early trade, note the mixed signals of 100% net short overnight inventory but current prices being above overnight halfback and trading just inside of Friday's range. In a nutshell, the move back into the larger balance area brought in some sellers but obviously not that many since the lower prices didn't hold. The RTH session can be a completely different animal from the overnight one so we will have to see how traders react to this.
Above and below current prices we have prominent TPO POC's that have not been tested. This session will be about which one the market goes to. Once you have established direction, use these as potential targets. Bring into your narrative how the ONL came right down to the lower one and turned almost perfectly. This makes that low weak but also confirms that buyers were in control, at least as far as that overnight session is concerned.
Scenarios
As discussed above, the market is going to move to either of the prominent TPO POC's either above or below. The signals are pretty mixed here as one would expect that the move back into balance overnight would be very bearish, however prices have recovered quite a bit from that ONL.
Should the upper POC be in play, target it and assume that status quo (buyers in control) continues. Should the lower one be in play, that would potentially make all of Friday's RTH range excess and open us up to potential for rotation all the way to the lower end of balance as per the balance rules.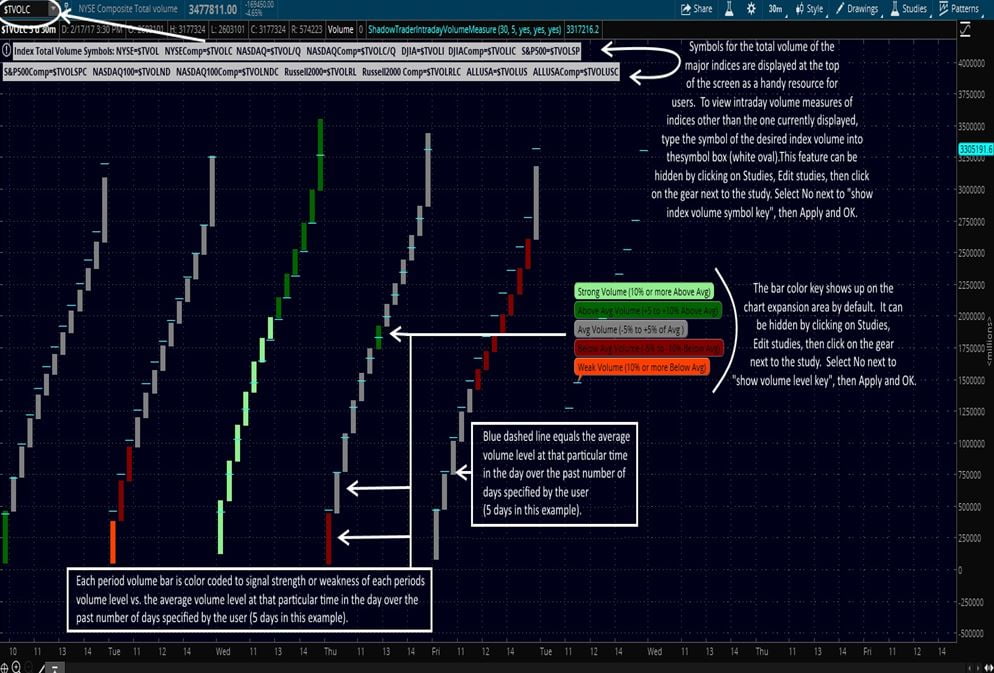 ShadowTrader Intraday Volume Measure
COMPARE INTRADAY VOLUME IN ANY TIMEFRAME
Fully Customizable Settings!
$20 Buy Now