The Market Profile value areas and ShadowTrader Pivots for /ESU21 and /NQU21 Futures are posted free every morning in the ShadowTrader Swing Trader newsletter.
WindoTrader 702-800-4628 Speak with Terry about the ShadowTrader discount or CLICK HERE to learn more.
Click HERE for a market profile key that will help you interpret the chart above.
Pre market indications
| Opening In/Out Balance | in balance |
| --- | --- |
| Overnight Inventory | balanced |
| Current Price/Overnight Range | upper third |
| Shock and Awe | yes |
| Potential for Early Trade | yes |
| Short Term Bias | bullish – breaking out of large balance area |
Ongoing Narrative / Commentary
Yesterday was day 10 of balance, and a relatively tight range day at that with a very small value area. The TPO POC was prominent as well and should be carried forward.
The overnight session has broken out of the balance area on the strong NFP report, however the overall Globex range is very balanced and also has a 45 degree line from low to widest point. Carry forward all of this in your narrative.
Balance rules continue to be in play, especially given that premarket indications have us breaking out of balance to the upside. Remember that it's only what happens in the RTH session that matters.
Although we are opening within balance, I am calling for shock and awe and the potential for early trade in the premarket indications due to the economic data and the fact that all eyes are on this breakout level. Aggressive traders can potentially be short early against the ATH.
Lastly, note how relatively weak the /NQ futures are in relation to the /ES. The divergence is pretty staggering. The /ES will need the /NQ's to get in gear if it wants to sustain a breakout here and have a true "look above and go".
Scenarios
Your main focus today should be on the RTH High which was a double top at the ATH from a previous session. As I write this, we are currently trading right at that level. If the market cannot sustain the breakout, balance rules tell us that there is potential for rotation to the opposing end of balance. Assume strength above this level and weakness below.
Internals will tell us a lot as will the ONL which was the low of a 45 degree line. Less import than the same pattern in an RTH session but excellent signposts nonetheless. This low should (emphasis on should) be secure. A breach of it would be a sign of weakness and put the prominent POC into play.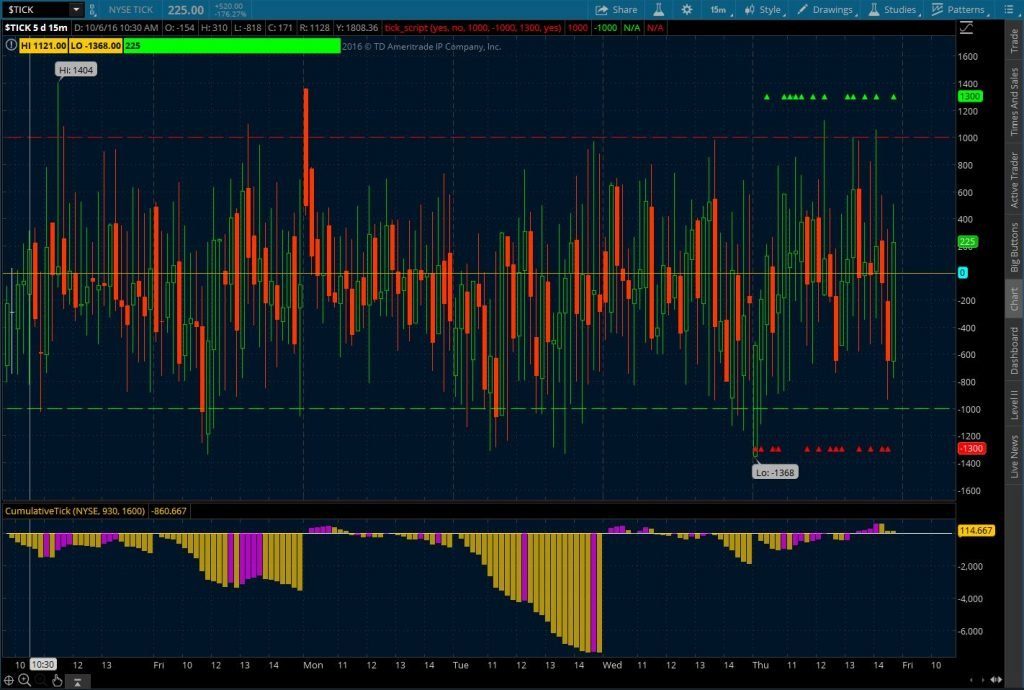 ShadowTrader Cumulative Tick
Beef up your "quad" and by putting your tick indicator on steroids!
Learn More