The Market Profile value areas and ShadowTrader Pivots for /ESZ20 and /NQZ20 Futures are posted free every morning
in the ShadowTrader Swing Trader newsletter.
WindoTrader 702-800-4628 Speak with Terry about the ShadowTrader discount
Relatively wild range in the overnight session, again taking out the RTH Low before trading back into range. As of now we are slated to open within yesterday's range. Overnight inventory is 100% net short but we are currently trading well above overnight halfback in the upper third of the Globex distribution.
As we got key earnings from big tech names last night (FB, AAPL, AMZN, GOOGL), the /NQ's are going to be heavily influenced by how these stocks act during today's session which should be somewhat volatile.
Overall, the bias remains down as yesterday's value was overlapping to up and a lower low was made.
Expect choppiness to stay elevated as we are now in the home stretch coming into the election on Tuesday. As I discussed in the weekly webinar, my personal M.O. is to not have any positions on into Tuesday's close, simply because there is no way of knowing how the market will react to the results. Those are not good odds to me and the market will certainly still be there on Wednesday morning.
Scenarios
Although overnight inventory is very net short, we are not trading on a true gap, nor are we trading at the low end of the overnight range. Thus, there is little shock and awe to today's open and the better trades will probably develop later in the session rather than early.
Today's trade should be very sensitive to the FANGMAN stocks that reported last night. Most of them are trading down on relatively small gaps within range. That also doesn't bode well for directional play early in today's session.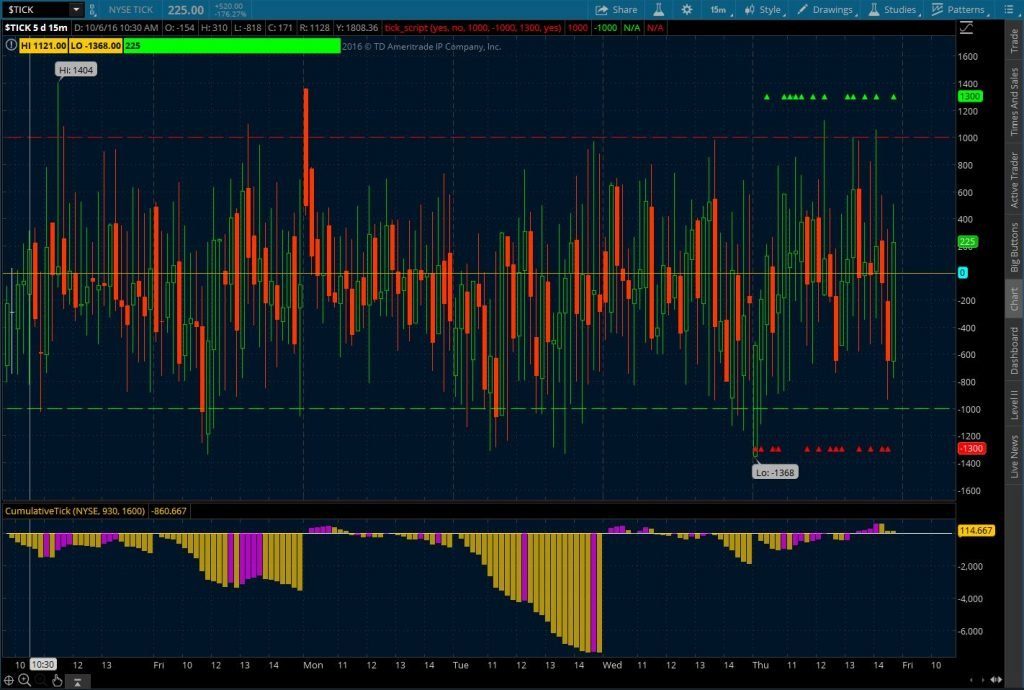 ShadowTrader Cumulative Tick
Beef up your "quad" and by putting your tick indicator on steroids!
Learn More