The Market Profile value areas and ShadowTrader Pivots for /ESH20 and /NQH20 Futures are posted free every morning
in the ShadowTrader Swing Trader newsletter.
Pursuant to our discussion in yesterday's private webinar, I said I would post all the VPOC's and gaps for thew new /ESH20 contract. Note that as time goes backwards some of the data is spotty because this contract didn't trade very much way back then. Thus for some of the older VPOC's I may have chosen TPO vs volume because it simply wasn't clear where the volume POC was. If we go down there, then it won't matter because the market will be drilling through all those levels like they were me tearing into some hummus after an intermittent fast.
I'll also mention that it occurred to me this morning when marking off the levels that they should be numbered in a declining rather than ascending fashion. This way we know how many VPOC's there are immediately just from looking at the most recent level and when a new one is added, we simply increase the number by one at a level that is very close to us currently. Withouth further ado, here's the list:
Gap: 3219.25 – 3212.25
VPOC 11 12/19 – 3205.75
Gap: 3191.75 – 3186.75
VPOC 10 12/13 – 3173.25
Gap: 3128.00 – 3121.75
VPOC 9 12/5 – 3118.00
VPOC 8 12/3 – 3080.00
VPOC 7 11/1 – 3061.50
Gap: 3052.25 – 3045.75
VPOC 6 10/31 – 3029.25
VPOC 5 10/23 – 2999.25
Gap: 2977.50 – 2973.00
VPOC 4 10/14 – 2969.00
Gap: 2963.00 – 2948.50
VPOC 3 10/10 – 2933.00
VPOC 2 10/9 – 2918.75
VPOC 1 10/3 – 2888.00
Yesterday was the breakout that took out the prior all time high and the overnight high, now setting another record in tonight's overnight session. Overnight inventory is very close to 100% net long. As of this writing, there is no a small true gap as we are trading just outside of yesterday's RTH range. Gap rules are technically in play but the gap is tiny.
We are now moving definitively into the latter part of December which is a very seasonally bullish period, coupled with the fact that the trade war situation is on hold for now. Think in terms of the bigger picture and focus more on that than anything else. That last statement should jump out at you because this is a report about nuances that matter most during the day timeframe. And I'm actually telling you now to switch your focus away from that. Of course you should continue to use the various signposts of the market profile to hone entries during each trading session, but mainly I'm telling you that it's a bull market and there is little impetus for investors to be selling stocks before the end of year. That's the framework. Work from that starting point.
The all time high has again been made in an overnight session. Note that every time I've told you that this would not be the end of the auction, it has been correct. We should simply keep thinking that until it's no longer true. That one point alone has been a good starting point from which to base an ongoing bullish thesis on and keep longer term traders in positions through pullbacks. As of now I expect last night's overnight high to be no different. There is also minimal excess on yesterday's RTH high.
Scenarios
Using my comments above as the framework, I expect pullbacks to be buyable in today's session. Overnight low already tested the POC so there is potential that it doesn't get tested in today's trade. As yesterday was an expansion of range and value I will pay close attention today to where value is developing during the session.
If anything meaningful was to develop to the downside, it would have to start with some acceptance below VAL which is also yesterday's halfback.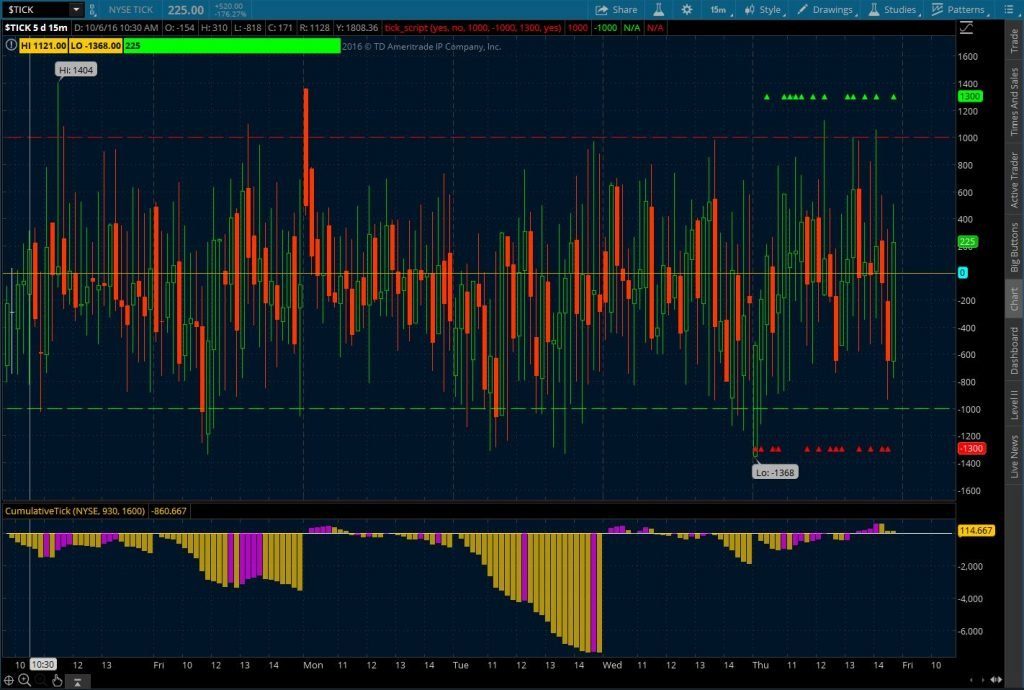 ShadowTrader Cumulative Tick
Beef up your "quad" and by putting your tick indicator on steroids!
Learn More