The Market Profile value areas and ShadowTrader Pivots for /ESM21 and /NQM21 Futures are posted free every morning in the ShadowTrader Swing Trader newsletter.
WindoTrader 702-800-4628 Speak with Terry about the ShadowTrader discount or CLICK HERE to learn more.
Pre market indications
| Opening In/Out Balance | in balance, lower end of range |
| --- | --- |
| Overnight Inventory | 100% net short |
| Current Price/Overnight Range | in lower third, close to ONL |
| Shock and Awe | yes |
| Potential for Early Trade | yes |
| Short Term Bias | above trend but look above and fail yesterday |
Key Levels for Today
| 4211.0 | RTH High / ATH |
| --- | --- |
| 4193.75 | Top of Balance Area |
| 4166.75 | Bottom of Balance Area |
| 4160.00 | Top of Single Prints |
| 4127.25 | VPOC 4.22 |
Ongoing Narrative / Commentary
Yesterday and last night have provided us with a lot of M.G.I. to add to the narrative. Firstly, the RTH action was a look above and fail per the balance rules. That means that there is potential for a rotation back down to the opposing end of balance. This would put the Bottom of the Balance Area into play.
Secondly, you'll note that in the Premarket Indications above, I am calling shock and awe even though we are within yesterday's range and also within the larger recent balance area. This is because our close was outside of the balance area which was bullish but now overnight activity has brought prices back into range. For this reason, I believe there may be longs trapped above the balance area who are "in shock and awe" (hence the term) that we are now opening lower. Remember that breakouts from balance are something that almost every trader does. Everyone sees the same horizontal resistances and has buy stops just above. I believe there is potential for at least some of this faction to be disappointed today.
It's the last trading day of the month which could bring on added volatility in addition to everyone digesting the AMZN gap today and other FANGMAN+T that are still reacting to their own reports.
Scenarios
The look above and fail yesterday puts the Bottom of the Balance Area into play as a downside target today. As we are opening within range it's not easy to pinpoint an exact entry at this time but trade from the framework that sellers could be in control. Target that balance area low first, then the Top of the Single Prints and beyond that the VPOC of 4.22. How much of this that happens (if any of it) will tell us a lot about the state of the market going into May.
Failing to test the low end of balance would be a more bullish sign and should be carried forward as a WWSHD.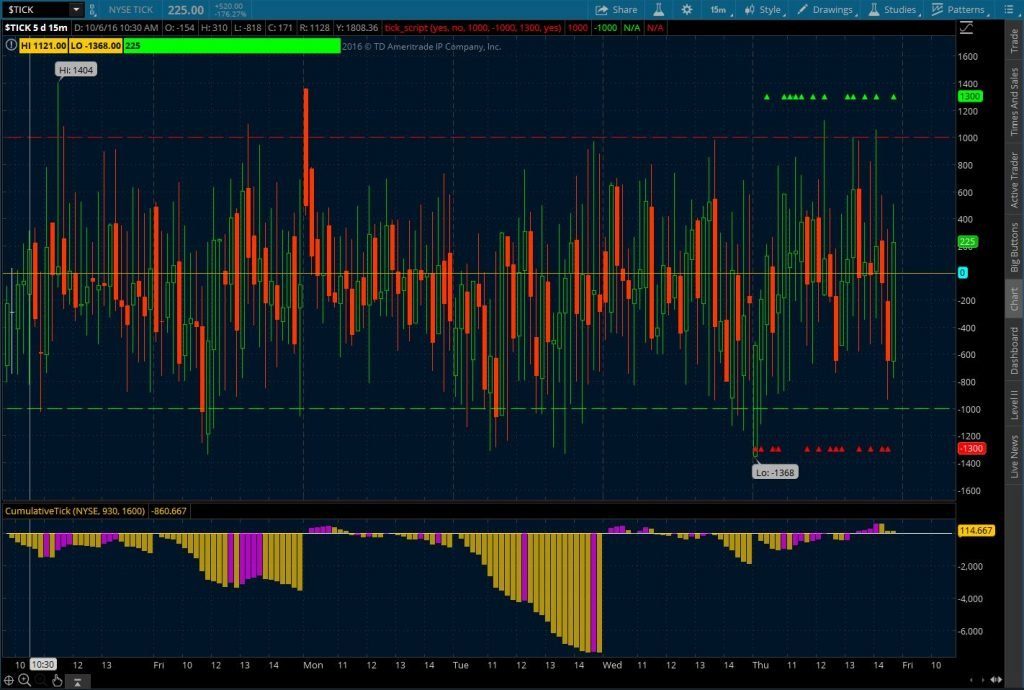 ShadowTrader Cumulative Tick
Beef up your "quad" and by putting your tick indicator on steroids!
Learn More