The Market Profile value areas and ShadowTrader Pivots for /ESM21 and /NQM21 Futures are posted free every morning
in the ShadowTrader Swing Trader newsletter.
WindoTrader 702-800-4628 Speak with Terry about the ShadowTrader discount
Perfect day to take a wider look at things and make sure that we have all of the recent nuances in our narrative.
– April 1: Closed at HOD at top of spike
– April 2: Market closed, overnight activity much higher
– April 5: Gap and go with strong close and zero gap fill leaving long line of single prints (p formation) and VPOC
– April 6: Overnight activity balancing in a small range and only testing small portion of single prints
Can you see how looking at things this way tells us so much more about the state of the market? This is a very short term version of the narrative that I speak of constantly. Next comes the harder part which is how you interpret it. Because it can often go either way or sometimes push you into potential scenarios that have low odds of playing out successfully simply because they go against the current ruling reason. I believe this is just such a time where the nuances are clearly pointing to a very shaky structure that is "piling on" while the reality is that the NDX is waking up from a period of sleep and buyers are engaged with plenty of catalysts to support their activity. That being said, the structural implications discussed above certainly give us plenty to work with in terms of WWSHD.
Putting the binoculars away for a moment and taking the microscope off the shelf, we are slated to open within range on overnight inventory that net short but not 100% so. As of now we are trading close to overnight halfback and I am noting that the overnight distribution is very wide which tells me that the market is balancing and accepting the higher prices. As noted above, the ONL traded into a long line of single prints but didn't get very far. All that is carry forward M.G.I.
Scenarios
For now, overnight activity is pointing to balance. The overnight tone is a pretty good predictor of RTH activity. Accent on "pretty" and we'll leave it at that. As the ONL should have traded lower, we'll assume that it is secure until it's not.
Should the ONL get taken, there is a clear lack of support below with a long line of singles sitting on a very large gap. Assume a lack of support for potential shorts but also note any failures to liquidate in these areas as very bullish.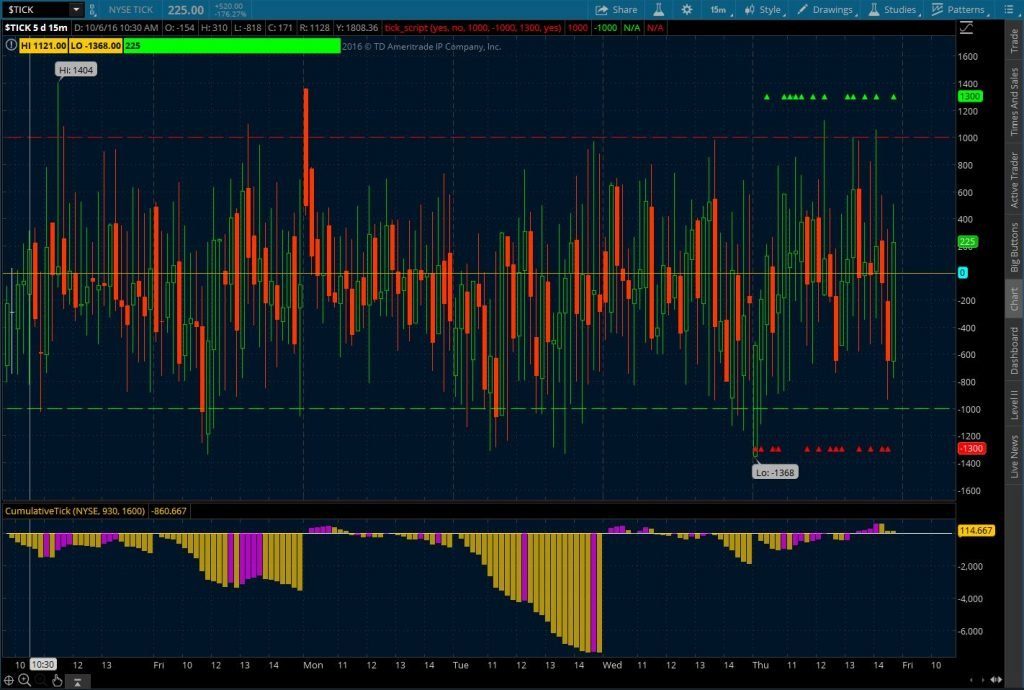 ShadowTrader Cumulative Tick
Beef up your "quad" and by putting your tick indicator on steroids!
Learn More