The Market Profile value areas and ShadowTrader Pivots for /ESM20 and /NQM20 Futures are posted free every morning
in the ShadowTrader Swing Trader newsletter.
**I am on the ShadowTrader SquawkBox all day for Brad today. Stop by if you can.**
Always good to refresh on the three questions you should ask yourself before every open.
1. Are we opening in or out of balance?
2. Is overnight inventory net long or net short and if so how much?
3. Where is current price in relation to the ONH and ONL?
The answers today would be IN, NEITHER, and NEAR THE HIGH. I also like to note if the overnight range is entirely within the RTH or was there price exploration outside of it. Last night's overnight distribution is completely inside of the RTH range which just indicates more balance. From just this M.G.I. we already have enough to know that the market does not currently have enough information to move higher or lower and thus opportunities will probably develop later rather than earlier.
Do you see how this is far superior to wondering what the payroll numbers are going to be and then thinking that if they are like this, then I'll do that, and if they are like that then I'll do this?
While there is little to go on so far as far as how today will play out, we do have plenty of M.G.I. to add to our narrative from yesterday. Yesterday's RTH trade filled the gap but not much more and then sold off hard in late trade. This is noteworthy as the market did what it was supposed to do (fill the gap) but as of now was not able to find new buyers to take it further. We add that to our narrative in the slightly bearish column.
Also in the bigger picture we should look at where we are technically in the SPX and NDX because they are quite disconnected currently which will also add to the indecision intraday as the weaker index acts as a drag on the stronger one which tends to curtail moves.
A close look at the charts above shows that the SPX is trading around the 50% Fib level while the NDX is trading around the 61.80% level. The SPX has also broken its uptrend while the NDX is still intact. All of that is contributing to the current push-pull that creates ranges. If the NDX were to break down below its ascending trendline, that would be a stronger bearish signal. A continued hold for the NDX above the trendline increases odds that it moves higher. Note that currently, that index is going to be heavily influence by tech and FAANG earnings. We have gotten NFLX thus far and although results were strong, the stock didn't react. That in and of itself is just one very small data point but I make note of it nonetheless. In this game it's good to be a hoarder of information.
Scenarios
While the 8:30 numbers strengthened futures considerably, we are still trading within yesterday's RTH range with an overnight session that has had very little price exploration. Thus the first scenario is to assume further balance and responsive trade can be the M.O.
As the ONH is pretty close to the RTH High, I will only look at the RTH High as a potential upside breakout point. If so, the VPOC at 2815.00 is the first target, assuming context confirms.
For today, I'll use the same criteria as above on the downside. Because of the nature of the overnight range, only a move below the RTH Low would have me thinking short for a larger trade.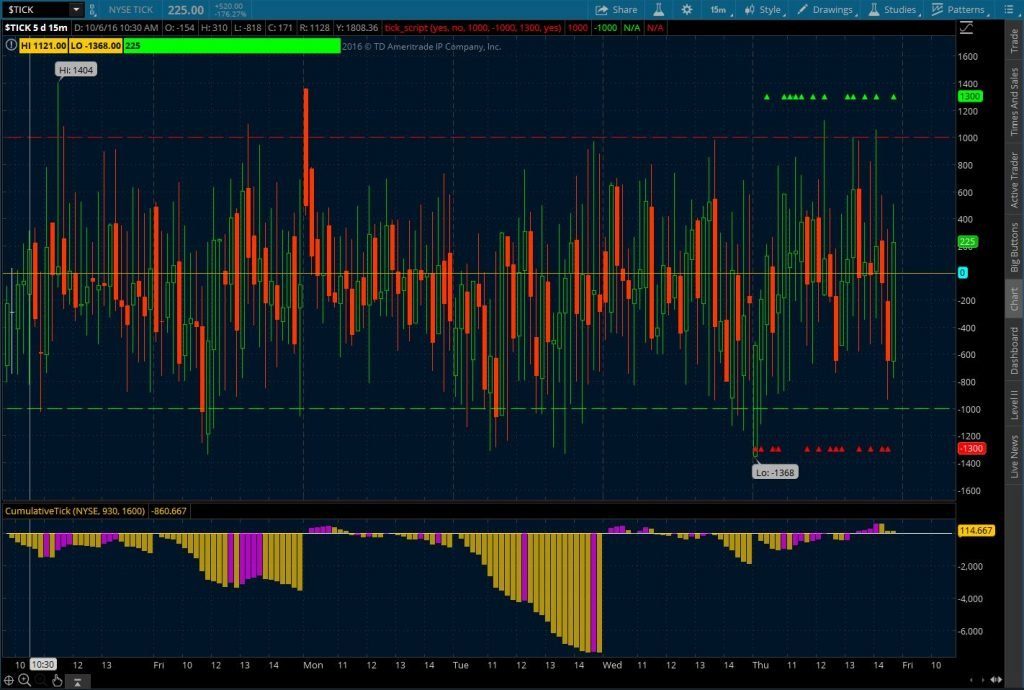 ShadowTrader Cumulative Tick
Beef up your "quad" and by putting your tick indicator on steroids!
Learn More