The Market Profile value areas and ShadowTrader Pivots for /ESH19 and /NQH19 Futures are posted free every morning
in the ShadowTrader Swing Trader newsletter.
Market profile distributions in a tight wind as a multi-day balance area is building pressure. Let's have a closer look….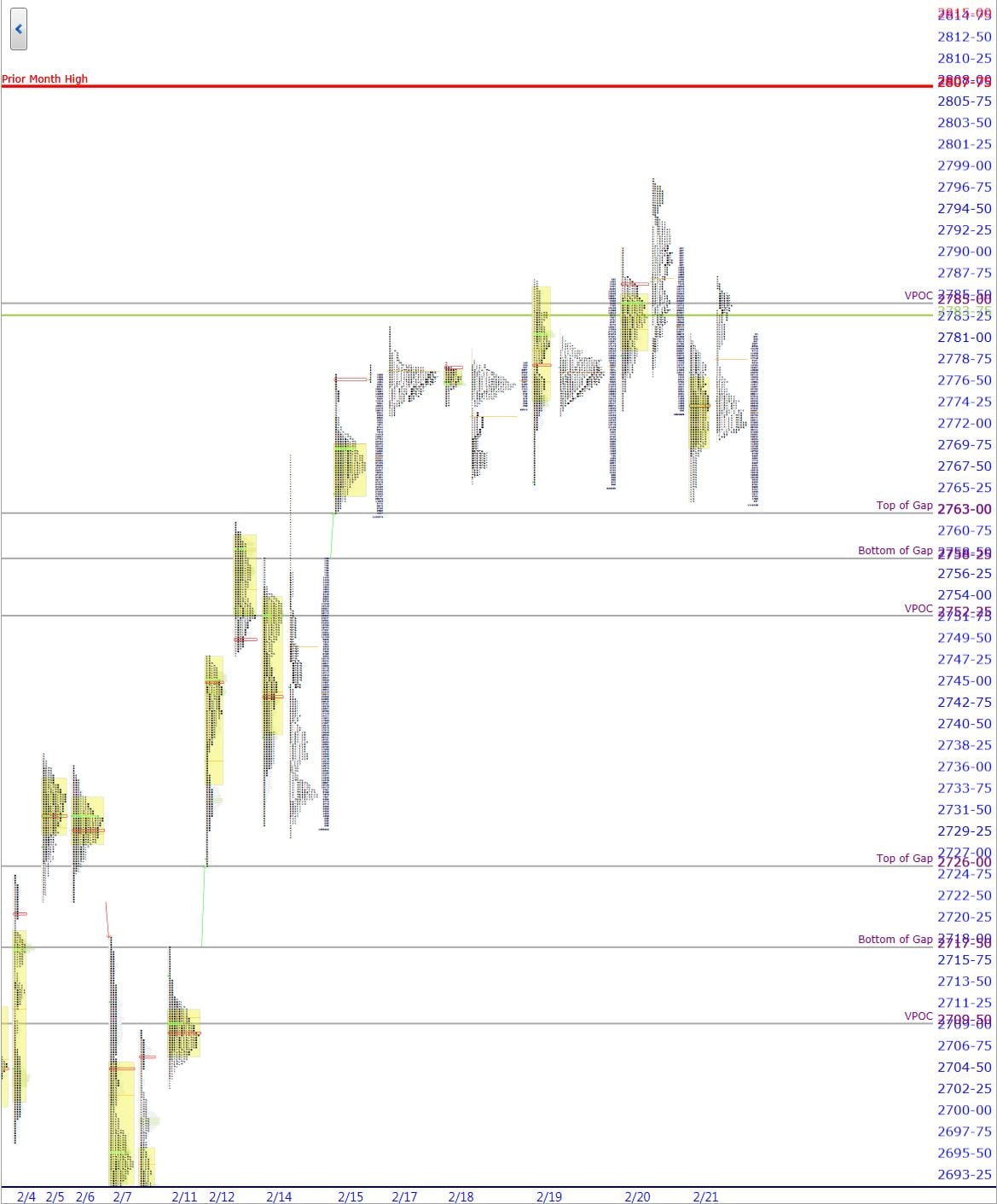 Sometimes erratic price action can take your attention away from contextual signposts that are far more important than the sidewalk tout of price. Don't let that happen to you. When leering at the market profile chart above, keep your focus on the gaps below us and their failure to fill, even partially. We have had no solid advancement or expansion of range recently, but we haven't found any new money sellers either. The market is clearly in balance for the last five (if you count the half day) sessions.
As such balance rules apply and should be kept in mind. As we know, a breakout of balance in either direction requires finding acceptance above or below the extreme of the range. On the downside, this is pretty clear where that would be at 2763.00 which is the top of the gap. On the upside, it's less clear because we have an RTH excess high of 2790.75 (2/20), but also an overnight high at 2798.00 which occurred on the same evening. Which one decides the breakout? Good question. I would say take it piecemeal, one by one. If we find acceptance above the RTH high, then target that ONH, then look for acceptance/context above the ONH to confirm the breakout. On a move above the ONH, I believe the market will be targeting 2815.00 which is the upper end of the box range that preceded the move to the December lows. If either of these fails back into range and below either of those key levels, consider putting on a short which would target the lower end of the range at the top of the gap.
As for details on how today's open could unfold, let's get into the nuances….
Overnight inventory is pretty balanced with a current gap of only 6.75. As of this moment, gap rules do not apply as we are trading just inside of yesterday's RTH range. A true gap is one that is completely outside of the prior day's range.
The overnight distribution has a decent 45 degree line from it's low to widest point which indicates some support in that area. Watch 2772.25 this morning as it represents that widest part with the tapering of time below it. I believe the market should hold this area if it is to advance a bit today. Additionally, note that yesterday's RTH low was poor which is also indicative of a lack of sellers and that camp "painting itself into a corner" a little bit at yesterday's low. Again, I am of the opinion that these areas should not be tested today. A breach of them would be an important nugget of information.
On any strength, 2785.00 is a VPOC just above us and would be a proper first target for any longs. Clearing of that level starts to setup the possible breakout of balance.
Overall, remember that while inside of a balance area responsive trade is usually the best M.O. Dalton often uses the phrase, "traders do what works, until it doesn't". Keep that in mind today as you navigate the balance area and possible breakout.
Have a nice day,
-peter