The Market Profile value areas and ShadowTrader Pivots for /ESH21 and /NQH21 Futures are posted free every morning
in the ShadowTrader Swing Trader newsletter.
WindoTrader 702-800-4628 Speak with Terry about the ShadowTrader discount
Solid gap higher and out of the RTH range which makes it a true gap. Gap rules are in play. Overnight inventory is net long and we are currently trading in the upper third of the overnight range.
The /ES broke it's downtrend definitively yesterday. The /NQ backed off and is now making another attempt. Both of these futures being above the downtrend puts the all time highs back into play. The TNX (10 yr yield) has backed off a bit in the last few sessions which is a catalyst for tech to wake up a bit. Continue to monitor this relationship closely. The market of this era has a much shorter attention span than it did 50 years ago. As of now, it appears that the market is starting to focus on a different shiny object being vaccinations, stimulus passing, and reopening. If so, we could easily move much higher to the upside.
Note that today is futures rollover. The /ESM21 contract starts trading. As we need a full day to calculate the value area, the commentary and snapshot above are still referencing the H contract. Tomorrow's PPP will start to use the M contract. A calendar and explanation of rollover dates can be found HERE.
Scenarios
Gap rule are in play, especially #2 and #4. As with any true gap, the early potential for a fade is there. Play short below the first one minute low or on a retest of the open should the opening drive be higher. In either scenario it's better if the ONH is not taken out. Target the RTH High first.

Crossing the ONH on faster tempo and bullish internals would show potential for higher. As overnight inventory is skewed long but not 100% so, there is potential for this play. Monitor closely for continuation.
Continue to watch where value develops. Over the last three sessions it has been higher. Only markedly lower value can change the current tone. Note that this will be harder to do once all majors have crossed downtrend lines.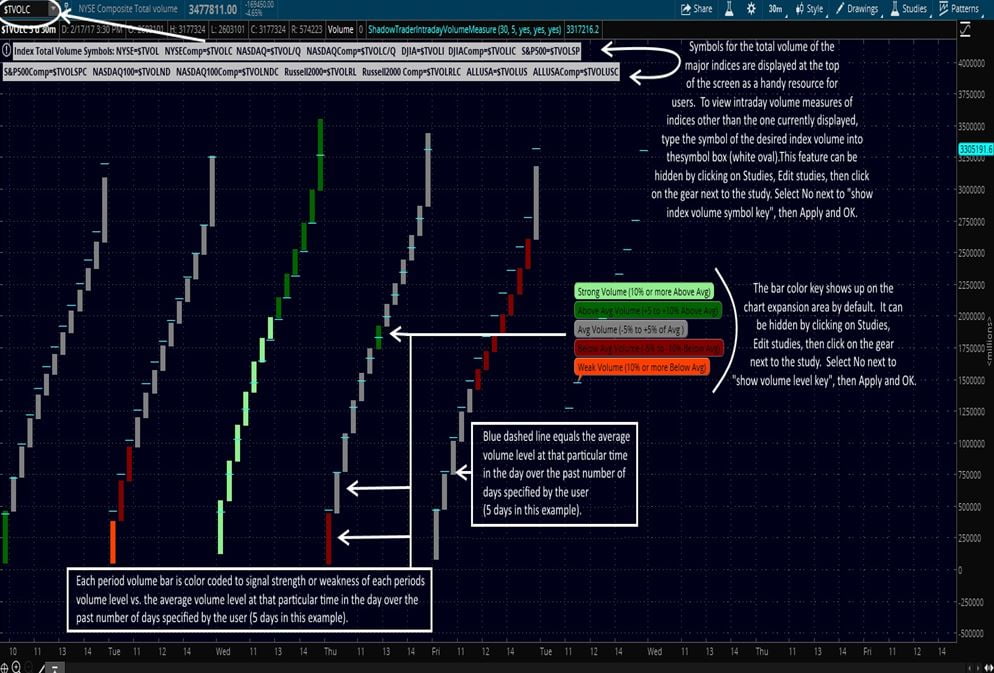 ShadowTrader Intraday Volume Measure
COMPARE INTRADAY VOLUME IN ANY TIMEFRAME
Fully Customizable Settings!
$20 Buy Now