The Market Profile value areas and ShadowTrader Pivots for /ESH21 and /NQH21 Futures are posted free every morning
in the ShadowTrader Swing Trader newsletter.
WindoTrader 702-800-4628 Speak with Terry about the ShadowTrader discount
Small gap lower into the middle of yesterday's range. Overnight inventory is net short but not 100% so. As of now we are trading in the middle third of the overnight range. All that leads to potential trades developing later rather than earlier as there is little shock and awe.
Value was clearly higher yesterday and the HOD went close to the HOD of 2/25 which is noteworthy as prices were able to claw back almost all of that day's range. Prices did move above the RTH open of that session which is noteworthy.
All of this puts the /ES close to an upside breakout point once again on its daily chart.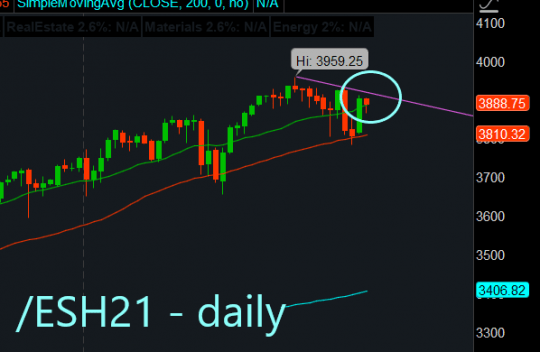 The technical implication of the chart above is obvious. Cross the light blue line and we are back in an uptrend; stay below it and we are not.
As with every expansion of range, odds increase of balance the next day. Keep that in mind for today's intraday trade.
Scenarios
There is potential for balance today against the backdrop of the expanded range of yesterday. If so, internals will be more mixed and there will be some push-pull between sectors in the SPX.

Only acceptance below the Top of the single prints can change the tone. Watch that area closely today. A more bullish market will not test those levels. If so, ONL and RTH Low could be in play.

If the RTH High is breached, switch your focus to the daily chart immediately to note where the trendline resistance (picture above) is going to come into play.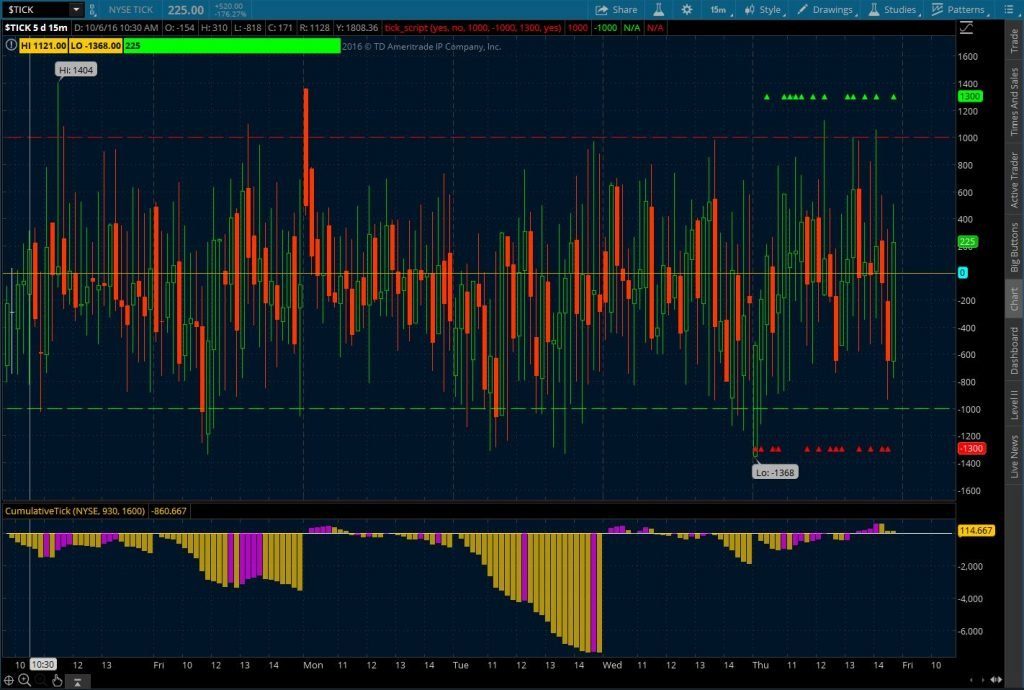 ShadowTrader Cumulative Tick
Beef up your "quad" and by putting your tick indicator on steroids!
Learn More