The Market Profile value areas and ShadowTrader Pivots for /ESH21 and /NQH21 Futures are posted free every morning
in the ShadowTrader Swing Trader newsletter.
WindoTrader 702-800-4628 Speak with Terry about the ShadowTrader discount
TSLA doesn't like Bitcoin falling, tech stocks don't like interest rates rising but financials do so hence /ES down 0.44% while /NQ down 1.60%. That's the situation in a nutshell.
In yesterday's Premarket Perspective I included a chart of the /NQH21 showing a potential test of trendline support. That trendline was violated last night and current prices are well below. Let's start with that chart again before we slice things up on a more granular level…
The chart above shows the break in trend and the loss of the 50SMA daily as well. I've drawn in the next support level at that prior low. Note that this would be a major support as it is a pullback low that precedes a higher high. Keep that firmly in mind as as potential buy point for a slightly longer term trade.
As of now we are slated to open out of balance both out of yesterday's RTH range and any larger balance area. Overnight inventory is very balanced and we are currently trading in the lower third of the overnight range. The most important takeaway from the three premarket questions is that the overnight inventory is very balanced. This takes away from the shock and awe of the open and may put a damper on any short covering.
Overall my feel here is that the /ES doesn't really want to sell off and has much stronger underpinnings from sectors that are currently rallying and holding at new highs. The problem is the XLK which makes up almost 30% of the SPX and is obviously acting as a drag.
Scenarios
Gap rules are in play. Be careful with any early attempt at fill. There is large divergence between the futures and this can often cause moves that are harder to predict. Let the gap rules be your guide with the usual emphasis on #2 and #4.

If there is counter-trend action, monitor closely for continuation and target the full gap fill at the RTH Low. Take it step by step from there on any further strength.
Any gap and go continuation scenario will be coupled with extremely bearish internals and a partial to no gap fill in early trade. I can't stress enough (like yesterday) that this is a hard play to pull off early as the natural tendency of the market is to take care of old business first which is to deal with the overnight shorts in the gap.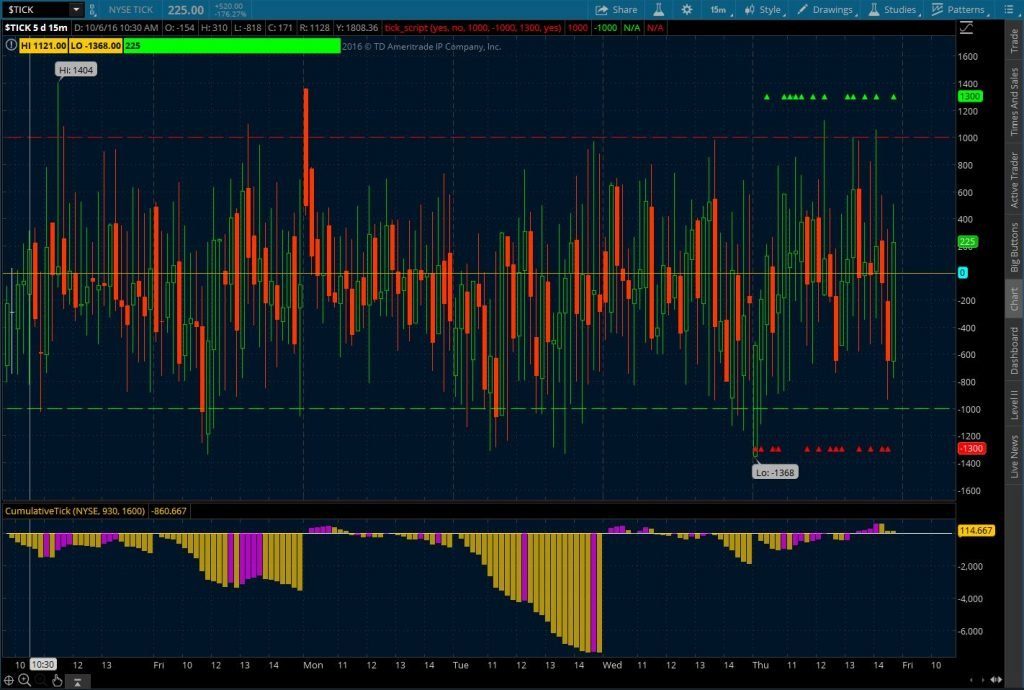 ShadowTrader Cumulative Tick
Beef up your "quad" and by putting your tick indicator on steroids!
Learn More