The Market Profile value areas and ShadowTrader Pivots for /ESU20 and /NQU20 Futures are posted free every morning
in the ShadowTrader Swing Trader newsletter.
WindoTrader 702-800-4628 Speak with Terry about the ShadowTrader discount
Key Levels for Today
| 3388.75 | ONH |
| --- | --- |
| 3382.75 | RTH High / Balance Area High / Triple Top 8.12, 8.13, 8.17 |
| 3379.00 | TPO POC (Prominent) |
| 3374.00 | RTH Low |
Slight gap higher just above the now four day balance area on overnight inventory that is very balanced. That in and of itself doesn't bode well for a breakout as for now traders are still showing indecision as to which side of 3382 they want to be on. If we open above, then we have a true gap and gap rules are in play. As of now we are trading in the upper third of the overnight distribution. Nasdaq futures are showing a lot of relative strength being up about 3x what their S&P counterparts are.
Balance rules are in play again and we will look at today very similarly to yesterday. The RTH High is the main go or no go level. Prices above favor moving out of balance and higher towards the SPX cash all time high target at 3393.52. Prices below keep the balance in play and also bring in potential to rotate back down to low end of balance which would be the 8/12 RTH Low at 3353.50.
Carry forward into your narrative the very prominent TPO POC from yesterday's RTH session. Prominent POC's have greater odds of being revisited than less prominent ones. At the 3379.00 level only one thirty minute TPO period failed to trade there. POC's are good places to end trades (targets) rather than start them. Prices are naturally drawn to areas of higher volume (think: value) and rejected by areas of lower volume (think: lack of value).
Scenarios
The market is still trying to resolve the four day balance. As of now we are trading back above the high of that area. Assume a bullish stance as long as prices remain above 3382.75. Monitor for continuation for potential move to the SPX all time high.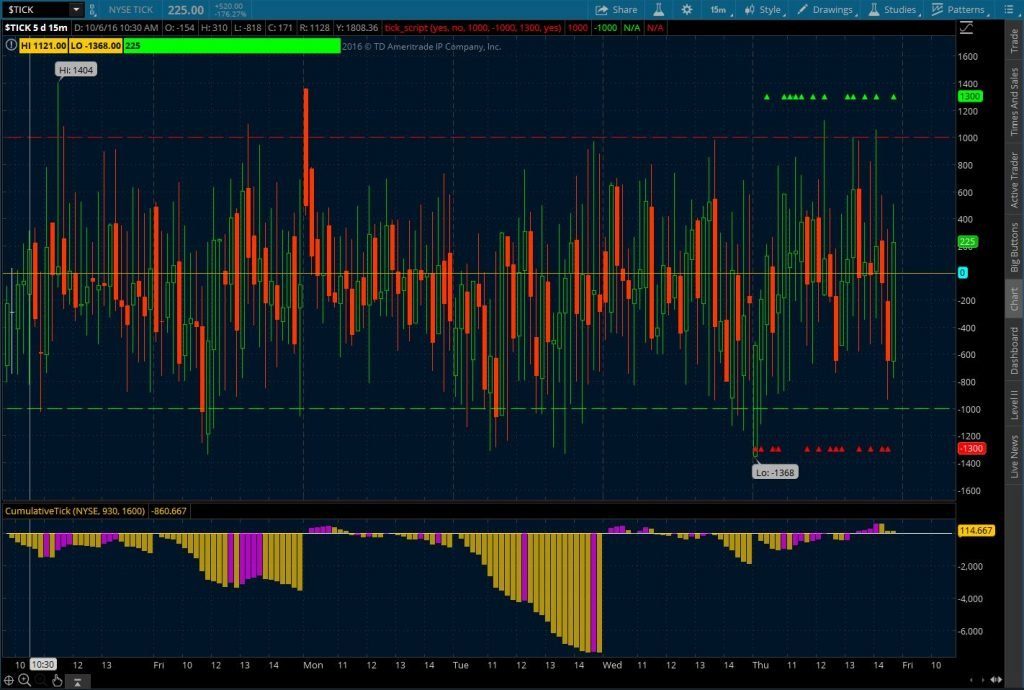 ShadowTrader Cumulative Tick
Beef up your "quad" and by putting your tick indicator on steroids!
Learn More