The Market Profile value areas and ShadowTrader Pivots for /ESU20 and /NQU20 Futures are posted free every morning
in the ShadowTrader Swing Trader newsletter.
WindoTrader 702-800-4628 Speak with Terry about the ShadowTrader discount
Key Levels for Today
| 3382.50 | Balance Area High / Double Top 8.12 & 8.13 |
| --- | --- |
| 3353.50 | Balance Area Low |
Small gap higher this morning and just a hair outside of Friday's RTH range but still well with the larger 3 day range. That means that as of now we are opening in balance. Overnight Inventory is 100% net long, but is of less importance as we remain in range.
Balance rules are in play. The last three RTH sessions have had unchanged value and two of the three are a double top.
Today's session will be defined by which of the balance rules outcomes are in play. While all RTH sessions have the capability to be completely different from the overnight sessions, it is of note that the overnight distribution thus far is very small and symmetrical and mostly balancing within Friday's range. That, of course, points to "door number three" which should never be discounted as a potential outcome of remaining in balance.
The all time high in the SPX looms very close above us. That is the target should an upside breakout take hold. Note that everyone is seeing the same thing and looking at the same target. To that end, while the odds favor a move to this level, it does not have to happen. Assumptions can often get you killed in this game.
Scenarios
Balance rules apply, go with all breakouts from balance that are accompanied by confirming context of internals and tempo.
Breakout from balance that fail should target the opposing end of balance. Any prices today within the balance area should assume responsive trade.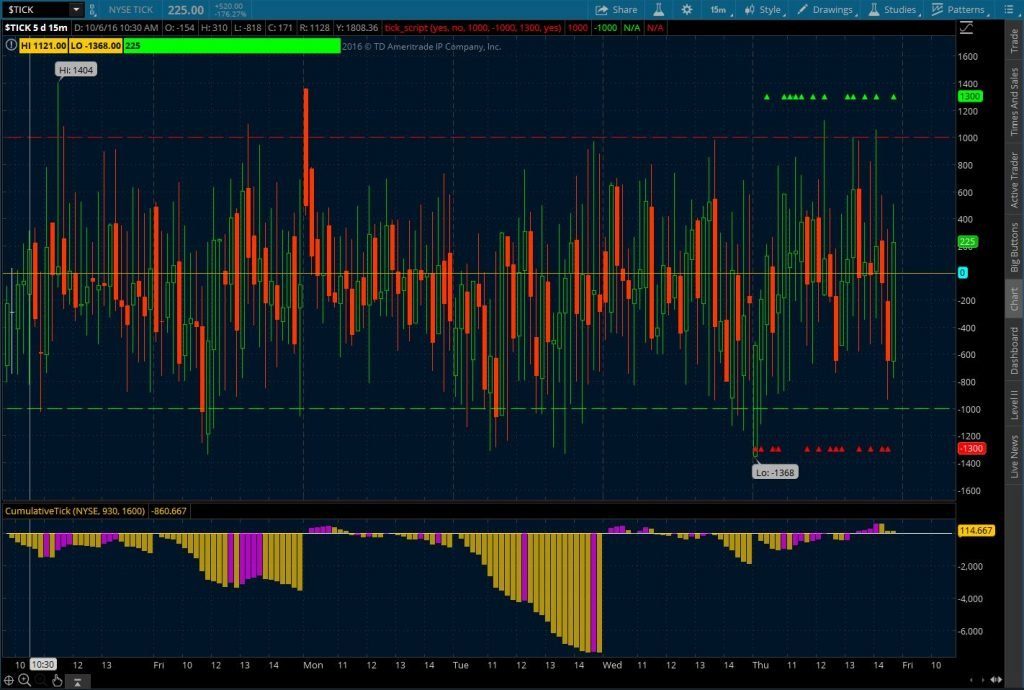 ShadowTrader Cumulative Tick
Beef up your "quad" and by putting your tick indicator on steroids!
Learn More