The Market Profile value areas and ShadowTrader Pivots for /ESH20 and /NQH20 Futures are posted free every morning
in the ShadowTrader Swing Trader newsletter.
Huge range in the overnight session on further news out of the Middle East. Recovery was swift off of the lows and we are now trading on a decent sized gap higher. Currently, I'm seeing indications that we are inside of yesterday's range so the gap is not true and gap rules are not in play for now.
You're probably wondering with all the fireworks last night how can there be only two Key Levels listed above? I chose this purposely to get your attention away from the overnight session and onto the RTH sessions which are all that really matter. Yesterday's distribution was small and the value area was very compacted. This tighter consolidation is within a much larger balance area. As such, I believe that the endpoints of yesterday's range are the main action points for today's trade. I'm only concerned with the overnight range in the context that I see it as a very large liquidation break and know that liquidation breaks strengthen a market. See it as the fact that it happened and recovered is bullish going forward.
The main question today to be asking is whether or not this larger balance area is ready to resolve higher or not. While it would be convenient to assume that over yesterday's high it is and under it is not, it's simply not that clear because of yesterday's range being tucked into a larger balance. If you recall, in yesterday's Premarket Perspective I laid out the case that the odds favored a tight market. This was confirmed by what I saw early on in market internals, tempo, and lack of follow through to early moves. In today's session, I will simply be monitoring the same parameters to see if the market presents something different. If so, I want to see acceptance outside of yesterday's range to the upside for long trades and acceptance below for possible short trades.
Though it's not listed above, you should continue to carry forward the fact that for like the umpteenth time there is still an all time high made in an overnight session up at 3263.50. Odds don't favor it holding. As this has worked many times in the past, we should continue to expect it be true again unless OTF sellers arrive in the market.
Lastly, with the rather squat profile distribution yesterday, it left a prominent TPO POC at its middle. That level is at 3239.25. Watch it today as a signpost for a market that is not ready to break out of balance just yet. More prominent POC's (read: more value) act as magnets and not only pull prices to them but tend to hold prices there as the price is obviously deemed "fair" by a disproportionate number of market participants. A market that wants to remain in balance today will probably trade through and around the level multiple times.
Scenarios
As of now we are trading dead in the middle of a small balancing day. As such, use the extremes of that session as potential triggers for long or short bias in today's session. Overall, I believe that there should be at least some "shock and awe" at the open from those who may still be short in from the overnight session which would support prices today. If it doesn't, then I'm going to monitor selling very carefully to see if it's real or that the market is simply still balancing.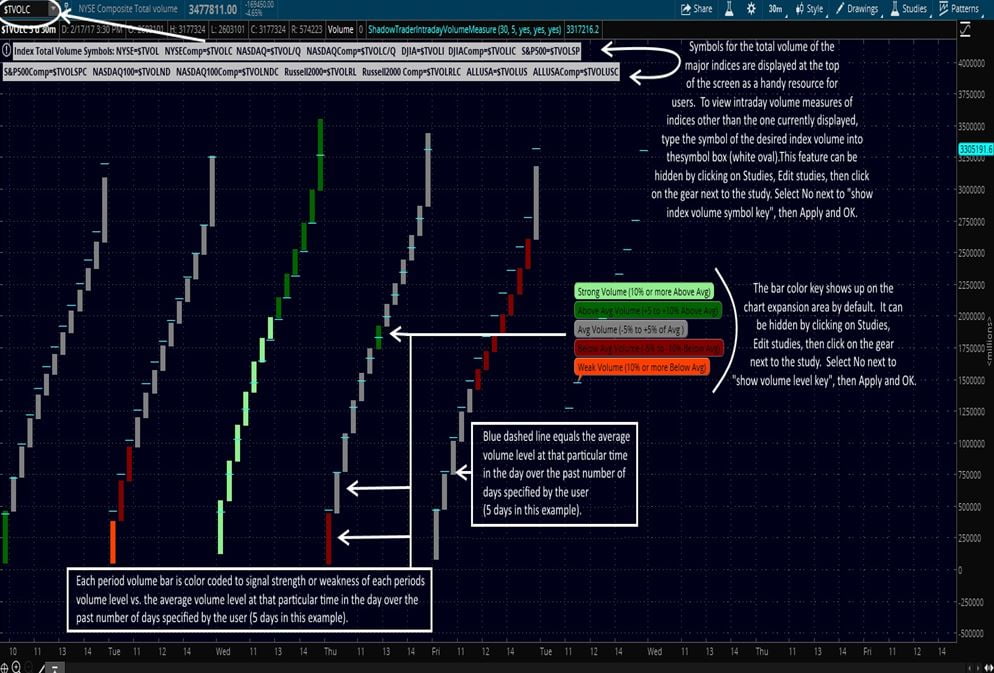 ShadowTrader Intraday Volume Measure
COMPARE INTRADAY VOLUME IN ANY TIMEFRAME
Fully Customizable Settings!
$20 Buy Now