Weekly Options Advisory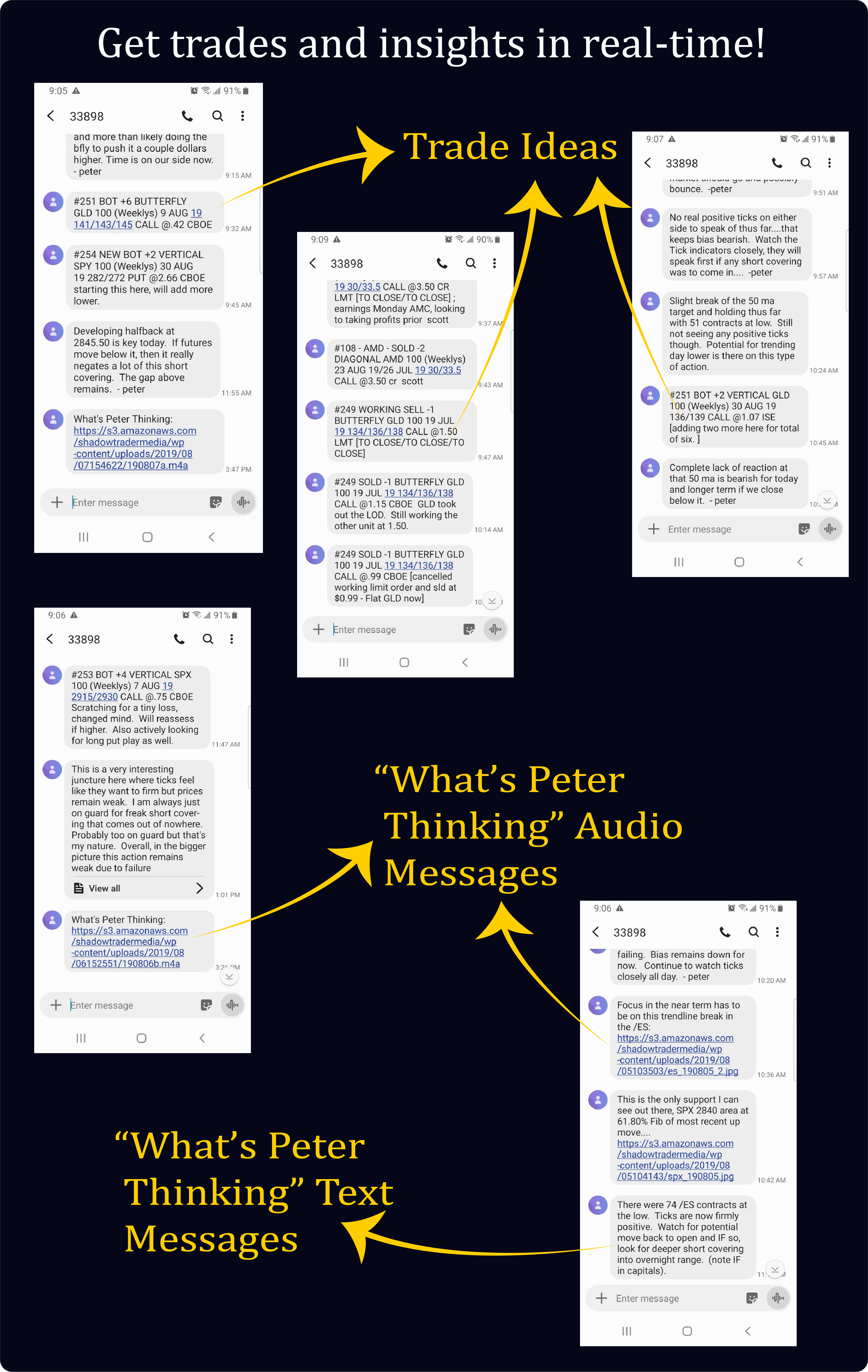 What's Included
Here's everything you'll be enjoying as a member of Weekly Options Advisory
Trades via Text Message
Administered by ShadowTrader Chief Strategist,
Peter Reznicek
this advanced advisory utilizes Risk Reversals, Iron Butterflies, Ratio Spreads, Butterflies, BWB's, Unbalanced Butterflies, Long/Short Verticals, and Back spreads as well. Basically, if it's an options spread we will trade it! They don't call them "options" for nothing
"What's Peter Thinking" Audio Messages
1-3 times a day, Peter records private audio messages just for subscribers of either Weekly or Time Spreads and sends them out via text message. These are often "heads up" calls alerting traders to something important that is happening at that instant. Many subscribers feel this is worth the price of the subscription alone
Weekly Private Webinar
On Thursdays at 4:15pm EST, Peter and Scott host a live, interactive, webinar where they go over trades, plans for the following week, new ideas, and answer questions from subscribers
Peter's Premarket Perspective
Get access to Peter's Premarket Perspective for
FREE!
Subscribers to either Weekly Options or Time Speads advisories receive complimentary access to Peter's morning market profile report. Don't start another day without these valuable insights!
Check Out a Recent Weekly Private Webinar!
Why Should You Subscribe Now?
Do we really need to spell it out? 

It's just $49/month

! Only

$1.63/day

, less than a cup of coffee

Free Access to Peter's Premarket Perspective

with your Weekly Options Advisory Subscription –

$20/month Value!!

Real-time trades

 sent via text message

"What's Peter Thinking" Audio & Text Messages

! 2-5 times a day exclusive for subscribers

Weekly Private Webinar

. On Thursdays at 4:15pm EST, live interactive webinar with new

actionable ideas

and Q&A

Nightly Email Recap!

Upon the close of each trading day a detailed email is sent out with a short paragraph summarizing the day's action, copies of all texts sent that day, along with links to the updated performance .pdf's
ShadowTrader Twitter
I'm really doing the commercial just to get back at all these fake "gurus" who've made me sit through all THEIR com… https://t.co/RRjoLjHTgw