Left to right:
Brad Augunas - Lead moderator, ShadowTrader SquawkBox
Scott Gillam - Equity Strategist, ShadowTrader SquawkBox
Dan Sheehy - Equity Strategist, editor ShadowTrader SquawkBox
Email "Danno" Sheehy
Trade Stocks?
ShadowTrader has you covered with our Live audio/video squawkbox all day long, and thinkscripts that will put your thinkorswim platform on steroids and help you see what others don't.
Live Trades & Guidance with Squawk Box
Professional grade live audio and video broadcast offering traders of all skill levels the tools and guidance necessary to trade the markets effectively.
$149/month
Tape Reader thinkScript
Provides an essential edge for successful day trading in both stocks and futures contracts. A thinkorswim add on study that can actually "read the tape".
$195
Cumulative Tick thinkScript
The NYSE tick indicator is one of the best short-term predictors of price there is. This add-on study might just make it even better! Adds an invaluable layer of information to the basic tick indicator by tallying and plotting its cumulative total throughout the day.
$95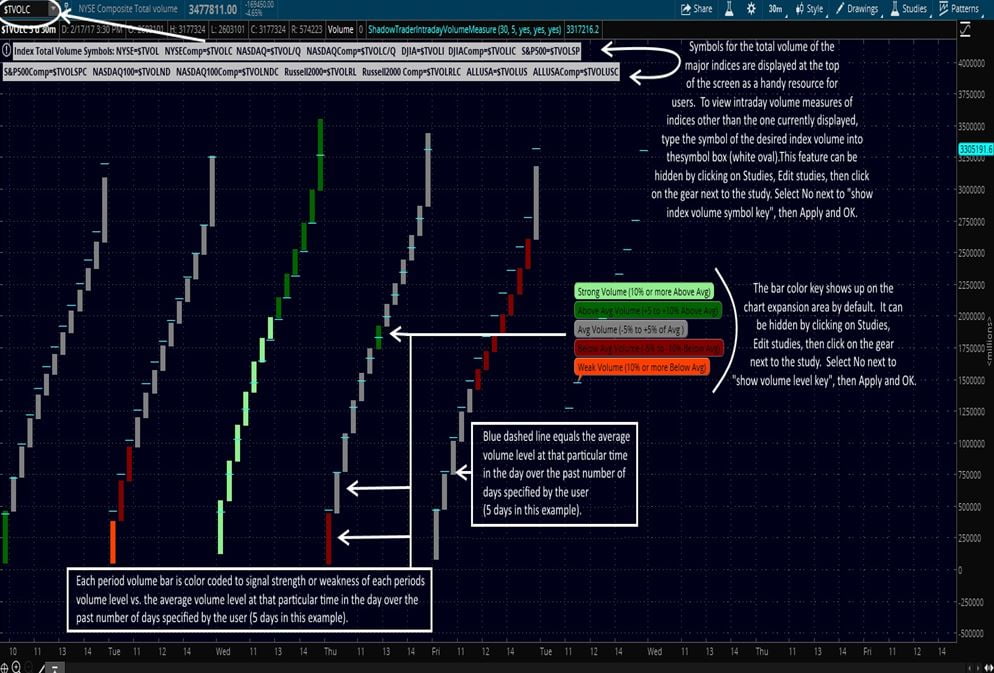 Intraday Volume Measure
Compares broad market volume data throughout the day, in increments defined by the trader, and compares it to previous broad market volume levels at the same times on previous days. Color coded results make the interpretation of this information easy to understand.
$20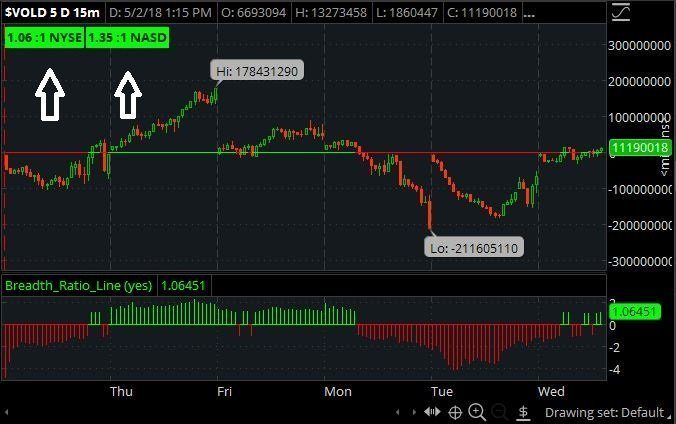 Breadth Ratio Bubbles thinkscript
Puts Breadth Ratio "bubbles" into the upper left of your Breadth Chart, allowing you to see NYSE and Nasdaq Breadth Ratios at a glance!
FREE
Breadth Ratio Line
Plots the Breadth Ratio as a line or histogram on the bottom of your Breadth chart, allowing for better visual interpretation and easy comparison with prior days.
FREE
Value Areas & Pivots
The cornerstone of the ShadowTrader "quad" chart. Plots the value area, point of control, along with all ShadowTrader pivot levels automatically on your futures chart.
FREE
Tick Values and Distribution
Customizes your tick chart to show highs and lows at a glance along with easy to read distribution markers
FREE
Divergence thinkscript
Such a simple thing yet so valuable. Measures the distance of any instrument from the simple 20 period moving average to help ascertain issues getting overextended in one direction or the other.
FREE