The Market Profile value areas and ShadowTrader Pivots for /ESM19 and /NQM19 Futures are posted free every morning
in the ShadowTrader Swing Trader newsletter.
Double digit gap down back into range which is not that surprising given the poor structure and internals on the way up. Let's see where this takes us today….
At -20.25 currently the gap is a true gap and thus gap rules are in play as long as we open below the RTH low at 2859.25. Note that this is a key level in the section above.
Overnight inventory is not 100% short but enough to take notice. Your focus early should be whether or not and how much this skew gets rebalanced.
Volume has been low over the last two sessions, internals have not kept up with price and structure has been poor. The single print sections from 5/15 are still open for repair so the potential to trade through is there.
On any early rally (or one that lasts longer), the area to watch will be VAL at 2873.00. Note that this is where the single prints that formed yesterday's "p" distribution end. Look closely at the overnight distribution and see that there are also overnight single prints starting there on the way up, with a much heavier distribution of overnight trade just below. This an obvious turning point currently. A rally to there can be sold at that level with a tight stop which would give excellent risk reward. A rally that fails somewhere inside of single prints can also be sold. The tone would change with acceptance above that level.
Pursuant to everything in the previous paragraph, how the market acts around the ONL will decide quickly if there is to be retracement into yesterday's range or not. Aggressive and advanced traders can sell quickly on any hint of failure or going in and back out. Odds, however, generally favor some retracement and then failure if overnight sellers were to be proven right.
Downside continuation straight from the open will be the more difficult play as always. Keep in mind that the ONL at 2853.00 needs to be taken out for anything more meaningful to develop and start to push towards repairing some of the structure of 5/15. If such a move, target 2849.00 first as it is the first set of single prints in that distribution.
Scenarios
Internals/volume/structure have not been strong on this short covering rally. The potential for lower is there. Look for some retracement into yesterday's range up into the single prints. Any failure is a short setup. Keep in mind that single prints offer little resistance and the market could move all the way to VAL before failing. The amount of retracement back up into yesterday's range will tell you everything you need to know about the strength or weakness of the market.
There is almost immediate downside continuation from the open. This is a difficult trade to pull off as there will more than likely be violent zig zags as new money sellers are already "piling on" to overnight sellers. If so, target the aforementioned 2849.00 area.
Everything that I think should happen is wrong and the opening drive is strong and doesn't stop at VAL. In such a scenario, only look for long trades once you are confident that there is acceptance above VAL and internals, tempo, etc are confirming.

Have a great day,
Peter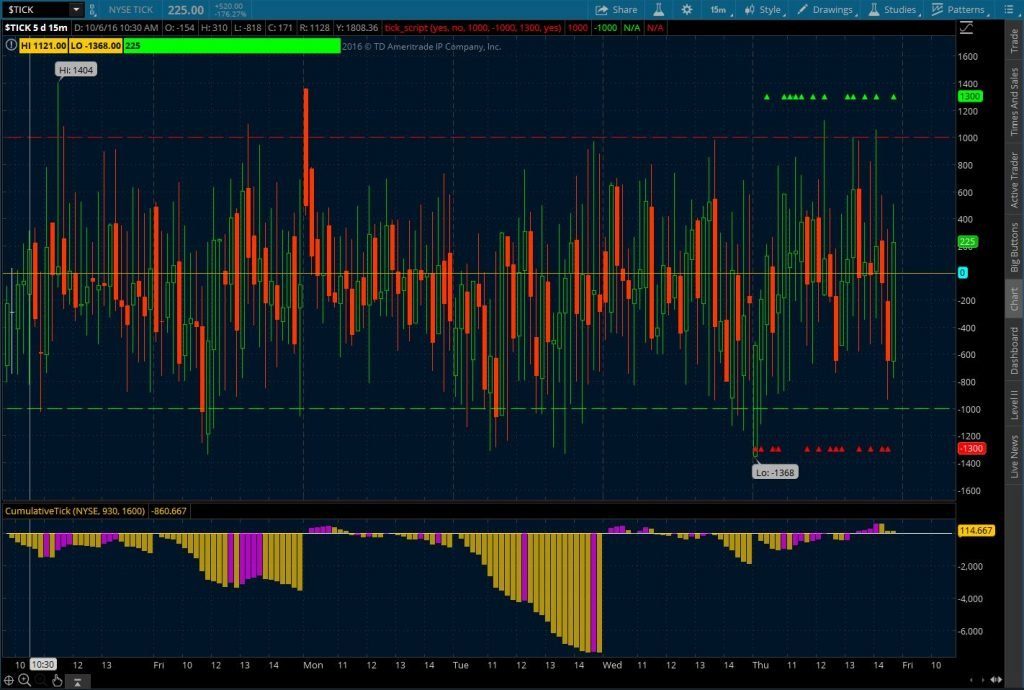 ShadowTrader Cumulative Tick
Beef up your "quad" and by putting your tick indicator on steroids!
Learn More